By Laura Paterson
It was with great anticipation that an away day was announced for the South Africa 'office' for the 21st of October. These days are of vast importance for remote workers. We get to put actual faces to Skype photos, build stronger working relationships, as well as friendships, and in many people's cases, for everyone to see the plethora of pictures of our cats that we talk about incessantly on Skype.
The Southern Suburbs contingent were picked up by the shuttle at 10 am sharp outside of McDonald's in Cavendish (a handy spot for some McMuffin stomach lining) and then we were on our merry way to pick up those from the 'Far North'.
We even had the pleasure of two of our Johannesburg colleagues, Jenna and Jo, flying down to join us for the day.
We arrived at the spectacular Spier Wine Estate and were ushered to a lush grassy area, beautifully located under colossal oak trees and next to a winding stream. Picnic blankets, pillows and what seemed like an endless amount of food lay in wait. We very soon realised that a trip back to the cellar would be in order after polishing off the wine and champagne before one morsel of picnic food had been touched.
A rather tentative and quiet start from a group of people that didn't know each other all too well, soon melted into comfortable and inclusive chit chat amongst colleagues that were fast becoming friends. The increasingly relaxed atmosphere had nothing to do with the quickly disappearing wine reserves and everything to do with our charismatic natures, obviously.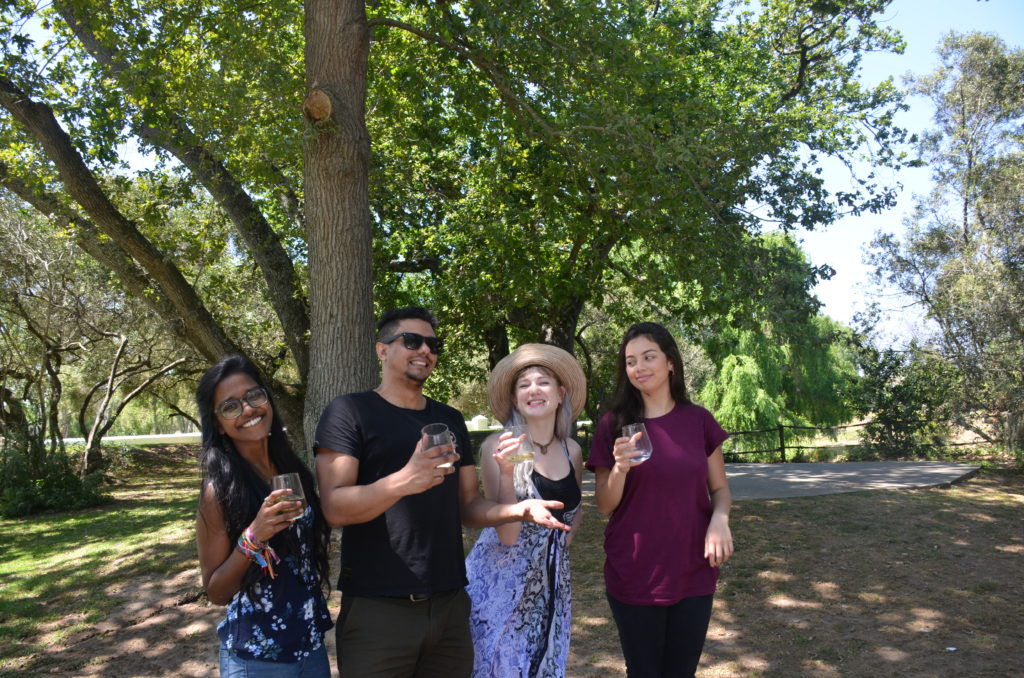 The afternoon blended into a mixture of laughter, card games, playground takeovers and carbo-loading in the form of delicious homemade bread and a myriad of toppings.
We learned many things on this fine day at Spier, but the things that will stay longest in my memory are:
You don't need a physical office to form close bonds with colleagues
The PPC department is not great at handling their alcohol
Not everyone understands Cards Against Humanity
There are some truly awful music genres out there
Everyone loves champagne
We left Spier at around 5 pm as a decidedly more motley crew than we arrived and the hour-long bus trip sure had a lot more volume for the return trip. The plan on our arrival back in Cape Town was to continue the party at a pub somewhere, but by the looks of the bedraggled bunch that descended from the bus, it was obvious that it would be Club Duvet for most.
All in all, it was a wonderful day out getting to know the rest of the team. A special mention must go to Joy-Mari for doing the majority of the organising for the day and for being a fabulous event photographer.
I am confident in saying that as a team, we are all looking forward to the next time.