On the 27th of September, Google turned 20. In the past 20 years Google has gone from a tiny startup to an advertising behemoth: today its parent company, Alphabet, is the world's third most valuable company. The company that started as a novel search engine now manages eight products with more than 1 billion users each. The big statistics go on and on. There were thousands and thousands of articles online talking about the huge numbers associated with Google. To take just one literally astronomical example. Google Maps has helped people find their way with driving directions in 240+ countries and territories, spanning 40 million miles of road—that's 83+ trips to the moon. Many of milestones on this unprecedented journey are close to common knowledge now – the PhD paper that started it all, the introduction of AdWords, the 2004 IPO, the purchase and rise of YouTube (now 95% of internet traffic) as well the introduction of globally applicable products like Google Docs and Gmail.
I could write 100 blogs quoting you Google statistics that will fascinate and amaze you. But oddly enough for a topic so huge as Google's 20th birthday, it was a story about a father from New Zealand who needed to fix a very big and difficult problem for his tiny daughter that gave me a lump in my throat and the focus of this blog. When I first began at Google in 2002, I loved the grand scope of the company's visions – the moonshots as they are now known. The Elon Musk-type reaching for the stars on projects that will alter the way the world works and for the better. The first vision of founders Sergey Brin and Larry Page was "to organize the world's information and make it universally accessible and useful." It was a simple idea but I had a sense of how powerful it could be for people who can't go to fancy schools or afford tertiary education or even school books. One online computer in a library can open up the world to a child anywhere.
The story that encapsulates Google's contribution to the world is that of Dwayne Collins who was an oil rig worker used to working with sledge hammers until his daughter Liberty was born with microphthalmia. This condition causes partial blindness and left her with one eye significantly smaller than the other. If this condition is untreated, the child's face can begin to collapse. One day Dwayne took Liberty to yet another appointment when he had to hold his trembling daughter as the doctor pulled out another prosthetic eye that didn't fit properly. He never wanted to see her suffer like that again so that evening he went online and started teaching himself to be an ocularist – a person who makes artificial eyes. Dwayne found a series of instructional clips on making artificial eyes uploaded to YouTube by a world-renowned ocularist called John Pacey-Lowrie who lived in England. 6 months of frustrations, setbacks and tears later, Dwayne walked from his workshop to his house to fit his daughter with a artificial eye he had made for her. Not only did it fit but it looked great. He went to the UK to train with John Pacey-Lowrie and now Dwayne has his own ocularist practice in New Zealand. To me, this is the legacy of Google. Watch their Story Here
I am proud to have counted myself as one first few hundred worldwide Googlers. Google has given me lifelong friends, taken me to far off places , challenged me , allowed me to work on some of the world largest brands and it has shaped alot of what we try do at The Media Image. I will never forget my last Interview as I walked up Wimbledon village hill, I had a call from Sheryl Sandberg and talked as I walked up to meet a few mates at the pub, little did I know how that call would change my life and for all the Googlers I met and worked with , I say a huge thanks! Search on…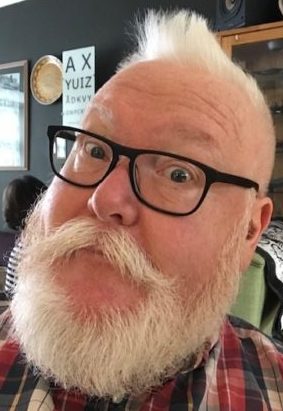 Max Brockbank is Head of SEO at The Media Image. He previously served as Global Director SEO at Hilton Worldwide and Senior Client Success Manager at SearchMetrics. As a journalist, Max worked as a reporter and editor with regional and national newspapers including the FT and the Sun, and on global publications such as TIME Magazine.