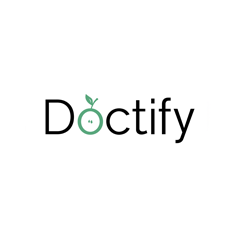 Objective
Our objective was to generate as many patient and specialist sign ups as possible on the Doctify website via digital acquisition channels. The main challenge was to figure out how best to segment visitors as specialist or patient, as these two segments have very different value to the business. Our approach was to utilise interest, category and audience insights from Facebook to drive specialist sign ups and leverage keyword-intent from AdWords to identify a patient enquiry.
Strategy
There were two primary target audiences:
•  UK Patients: patients looking for private health care professionals and patients looking for specialist treatments not covered by the NHS (e.g. chiropractic care).
•  UK Specialists: all medical health care specialists and alternative healthcare specialists covered by the doctify website (e.g. GP, Ophthalmologist, Acupuncturist, Psychologist).
These two target audiences are quite distinct and required different approaches.For  patient acquisition, we opted for PPC where search queries would signal intent and allow us to effectively connect visitors with their desired health care specialist.For  specialist acquisition, we opted for Facebook Ads as they offer powerful audience segmentation and targeting tools, including targeting by profession.
Implementation
For the patient acquisition PPC campaign, we began by building out campaigns combing keyword searches for the specialisms + London, specialist + borough, and specialist + private. After monitoring the performance of these campaigns and conducting further research, we went on to build out keyword campaigns combining specialist + London Postcodes. This resulted in an extensive keyword list of over 100,000 keywords. We carried continuous A/B landing page tests between the homepage and the sign up page in order to gauge statistically significant differences in conversion rate. In conjunction with this, we constantly tweaked ad copy at individual ad group level. With regards to specialist acquisition on Facebook, we needed to identify specific targeting options that would allow us to effectively target only individuals that are in fact doctors or similar healthcare practitioners. To do this, we identified a host of industry, interest and job targeting criteria that would be viable, as well as reviewing hundreds of groups and pages that we could use to boost the initial audience subset. This resulted in a very granular campaign matrix, which could be used to quickly cull any underperforming audiences and minimised wastage. To support the granular structure, we used cutsomised creative & copy based on demographic and inferred profession for maximum relevance. Once we obtained enough specialist sign ups, we then created custom lookalike audiences (1%, 2% and 3%) based on these in order to target similar audiences. These lookalike audience campaigns have contributed to an additional 17% of the overall specialist sign ups, at an extremely efficient CPA.
Outcome & Results
During our 3 month trial period we've accomplished the following:
+172% Increase in Conversions
+12% New visits from PPC
35% Budget saving
More than 5000 qualified Patient visits
Specialist sign ups at less than a third of the original target CPA
A comprehensive keyword list of over 100,000 keywords
An increase on our PPC conversion rate of 23% through continuous landing page & ad copy testing
An increase of our Facebook CTR of 35% through custom create & adcopy testing